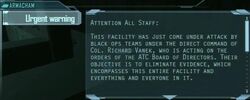 Armacham - Urgent Warning is an intel report found in F.E.A.R. 2: Project Origin. It is the 14th intel of the game, and is found in a lab within the Harbinger Facility in Interval 02 - Isolation - Awakening, just after Genevieve Aristide speaks with Michael Becket.
THIS FACILITY HAS JUST COME UNDER ATTACK BY BLACK OPS TEAMS UNDER THE DIRECT COMMAND OF COL. RICHARD VANEK, WHO IS ACTING ON THE ORDERS OF THE ATC BOARD OF DIRECTORS. THEIR OBJECTIVE IS TO ELIMINATE EVIDENCE, WHICH ENCOMPASSES THIS ENTIRE FACILITY AND EVERYTHING AND EVERYONE IN IT.
ONLY THE MAIN ENTRANCE IS COMPROMISED AT THIS POINT, SO EVACUATE THROUGH ANY OF THE EMERGENCY ESCAPE ROUTES. I SUGGEST BARRICADING CORRIDORS LEADING TOWARD ANY OF THE MAIN LOBBIES TO BUY YOURSELVES TIME. DO NOT ATTEMPT TO SURRENDER OR YOU WILL PROBABLY BE SHOT.
GENEVIEVE ARISTIDE
PRESIDENT, ARMACHAM TECHNOLOGY CORPORATION
Ad blocker interference detected!
Wikia is a free-to-use site that makes money from advertising. We have a modified experience for viewers using ad blockers

Wikia is not accessible if you've made further modifications. Remove the custom ad blocker rule(s) and the page will load as expected.