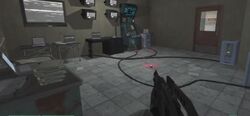 Base Camp - Voicemail 1 is a phone message found in Interval 05 - Infiltration - Base Camp in F.E.A.R.: Perseus Mandate. Unlike usual voice messages found throughout the game, the Sergeant is able to hear a live call on Gavin Morrison's cell phone, which has been dropped on the floor of the Warehouse.
Morrison, half the fucking city just blew up! What the hell are you doing? I don't care who you are, I'm pulling the plug on this one. Pack up and leave the city!
Ad blocker interference detected!
Wikia is a free-to-use site that makes money from advertising. We have a modified experience for viewers using ad blockers

Wikia is not accessible if you've made further modifications. Remove the custom ad blocker rule(s) and the page will load as expected.