Bristol is a minor character seen in F.E.A.R. Perseus Mandate.
F.E.A.R. Perseus MandateEdit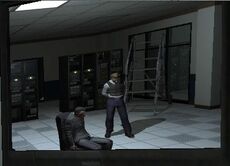 Bristol is an Armacham Technology Corporation employee who is interrogated by Gavin Morrison for a set of encryption codes. According to Morrison, it is Bristol who ran the Perseus Project for Harlan Wade, although Bristol denies this and insists that he does not have the codes. When he realizes that Morrison wants to recreate the Synchronicity Event, Bristol tells Morrison that he'll need Alma Wade to do so, and that she is in a place where Morrison will never find her. Shortly afterward, Bristol is executed by the Nightcrawler Commander.
Ad blocker interference detected!
Wikia is a free-to-use site that makes money from advertising. We have a modified experience for viewers using ad blockers

Wikia is not accessible if you've made further modifications. Remove the custom ad blocker rule(s) and the page will load as expected.