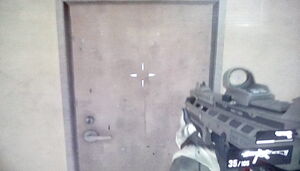 The F.E.A.R. Extraction Door appears in the multiplayer mode Soul Survivor in the maps Sub Rosa and Final Descent.
Monolith Timeline
Edit
It appears as a normal door in the multiplayer map Sub Rosa as a form of escape for the last man standing.  When a F.E.A.R. Operative aims at the door, their crosshairs turn blue, while a Spectres turn red.
On the map Final Decent a version of the door appears as a double door in the boarding tunnel as a blueish grey color.
It also appears as a rusty green color in Sub Rosa.
Ad blocker interference detected!
Wikia is a free-to-use site that makes money from advertising. We have a modified experience for viewers using ad blockers

Wikia is not accessible if you've made further modifications. Remove the custom ad blocker rule(s) and the page will load as expected.