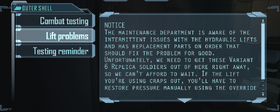 Lift Problems an intel found in the F.E.A.R. 2: Project Origin. Found in the Interval 03 - Recognition - Replica. The report contains troubleshooting guide if the operator has problem with the cargo elevator.
Transcript
Edit
NOTICE THE MAINTENANCE DEPARTMENT IS AWARE OF THE INTERMITTENT ISSUES WITH THE HYDRAULIC LIFTS AND HAS REPLACEMENT PARTS ON BORDER THAT SHOULD FIX THE PROBLEM FOR GOOD. UNFORTUNATELY, WE NEED TO GET THESE VARIANT 6 REPLICA SOLDIERS OUT OF HERE RIGHT AWAY, SO WE CAN'T AFFORD TO WAIT. IF THE LIFT YOU'RE USING CRAPS OUT, YOU'LL HAVE TO RESTORE PRESSURE MANUALLY USING THE OVERRIDE VALVES.
Ad blocker interference detected!
Wikia is a free-to-use site that makes money from advertising. We have a modified experience for viewers using ad blockers

Wikia is not accessible if you've made further modifications. Remove the custom ad blocker rule(s) and the page will load as expected.