Home
Talk

37
726pages on
this wiki
Universe

Games

Special Editions

Soundtracks

Promotional

Timelines

Did You Know...
Featured Article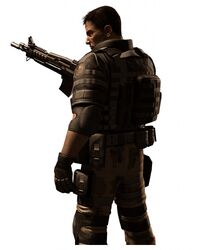 Michael Becket is the main protagonist of F.E.A.R. 2: Project Origin and a supporting character in F.E.A.R. 3. He is the deuteragonist of the F.E.A.R. series. He is an operative of a Delta Force unit codenamed Dark Signal. Becket is portrayed in F.E.A.R. 3 by Robin Atkin Downes.
At the beginning of F.E.A.R. 2, Becket is in the process of traveling to Genevieve Aristide's condo when he begins to see hallucinations of Alma Wade. Becket is knocked unconscious by the explosion of the Origin Facility, and is kidnapped by Genevieve's guards.
Genevieve takes Becket to undergo a surgical procedure which supposedly will attune his psychic profile to Alma Wade's, as she believes he can be used to distract Alma while the company searches for the Point Man. As it turns out, Becket and his squad are unknowingly a part of a new ATC project, codenamed Harbinger. Originally intended to produce candidates for Replica telepathic commanders without requiring Alma to bear a pregnancy, Harbinger has the side effect of making its subjects psychically sensitive to Alma's presence. Becket repeatedly encounters Alma throughout F.E.A.R. 2, as she becomes more and more obsessed with containing and controlling him.
---
Poll
F.E.A.R. Almaverse
| | | |
| --- | --- | --- |
| | | |
| F.E.A.R.: First Encounter Assault Recon | F.E.A.R. 2: Project Origin | F.E.A.R. 3 |
Which is your favorite incarnation of the Almaverse?
Helping Out
To write a new article, just enter the article title in the box below.