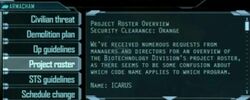 Project Roster is an intel report found in F.E.A.R. 2: Project Origin. Michael Becket finds the report in Interval 06 - Deterioration - Approach. The file covers many of the top-secret projects carried out by Armacham Technology Corporation.
PROJECT ROSTER OVERVIEW
SECURITY CLEARANCE: ORANGE
WE'VE RECEIVED NUMEROUS REQUESTS FROM MANAGERS AND DIRECTORS FOR AN OVERVIEW OF THE BIOTECHNOLOGY DIVISION'S PROJECT ROSTER, AS THERE SEEMS TO BE SOME CONFUSION ABOUT WHICH CODE NAME APPLIES TO WHICH PROGRAM.
NAME: PERSEUS
OBJECTIVE: APPLY PROPRIETARY BIOENGINEERING METHODS TO DEVELOP ARTIFICIAL BUT HIGHLY EFFECTIVE "REPLICA" SOLDIERS THAT ARE INEXPENSIVE TO MASS PRODUCE, EASY TO CONTROL, AND TRIVIAL TO REPLACE.
STATUS: ACTIVE
NAME: ORIGIN
OBJECTIVE: DEVELOP COMMANDERS CAPABLE OF DIRECTING REPLICA SOLDIERS TELEPATHICALLY. ONLY TWO PROTOTYPES WERE CREATED AND ONLY ONE OF THOSE, PAXTON FETTEL, WAS EVER PLACED IN ACTIVE TRAINING. THE PROTOTYPES ARE BOTH CLONES OF A CLASSIFIED FEMALE TEST SUBJECT. THEY WERE CARRIED TO TERM BY THE SUBJECT TO INCREASE THE PROBABILITY THAT HER TELESTHETIC POTENTIAL WOULD BE INHERITED.
STATUS: SUSPENDED PENDING REVIEW
NAME: HARBINGER
OBJECTIVE: PROVIDE A MORE STABLE AND SUSTAINABLE MEANS OF PRODUCING TELESTHETIC COMMANDERS (COMPARED TO CLONE PROTOTYPES, WHICH TAKE YEARS TO DEVELOP AND ARE HIGHLY UNSTABLE) BY STARTING WITH EXPERIENCED, MATURE CANDIDATES WITH INNATE TELESTHETIC POTENTIAL AND APPLYING GENE THERAPY AND TELESTHETIC ATTUNEMENT AND AMPLIFICATION TECHNIQUES.
STATUS: ACTIVE; SCHEDULED TO SUPPLANT ORIGIN PROJECT
NAME: PARAGON
OBJECTIVE: IDENTIFY POTENTIAL HARBINGER CANDIDATES AT A YOUNG AGE AND CULTIVATE THEM THROUGH MEDICATION, SCHOOLING, SUBLIMINAL MANIPULATION, AND VARIOUS MINIMALLY-INVASIVE MEDICAL PROCEDURES.
STATUS: ACTIVE
NAME: PYTHAGORAS
OBJECTIVE: DEVELOP A "SMART PILL" TO INCREASE A SUBJECT'S MATHEMATICAL APTITUDE. THE PROGRAM RELIES ON GENE THERAPY (USING A VIRAL VECTOR DELIVERED IN A SUGARCOATED PILL) TO CORRECT GENETIC DEFICIENCIES THAT AFFECT A PERSON'S MATH SKILLS.
STATUS: ACTIVE
SEVERE ACTION WILL BE TAKEN UPON ANYONE WHO SHARES THIS SUMMARY WITH PERSONNEL BELOW ORANGE SECURITY CLEARANCE.