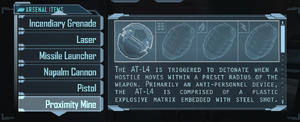 Proximity Mine is an intel report found in F.E.A.R. 2: Project Origin. The report will appear in Michael Becket's PDA when he first finds the AT-L4 Proximity Mine, and it details the specs of that weapon.
Transcript
Edit
THE AT-L4 IS TRIGGERED TO DETONATE WHEN A HOSTILE MOVES WITHIN A PRESET RADIUS OF THE WEAPON. PRIMARILY AN ANTI-PERSONNEL DEVICE, THE AT-L4 IS COMPRISED OF A PLASTIC EXPLOSIVE MATRIX EMBEDDED WITH STEEL SHOT. THE WEAPON IS HIGHLY EFFECTIVE IN A DEFENSIVE POSTURE, BOTH REDUCING ENEMY STRENGTH AND PROVIDING THE OPERATOR WITH WARNING OF AN IMPENDING ATTACK. THE PROXIMITY GRENADE IS ARMED WHEN DEPLOYED AND WILL 'STICK' TO MOST ANY SURFACE IT COMES INTO CONTACT WITH.
Ad blocker interference detected!
Wikia is a free-to-use site that makes money from advertising. We have a modified experience for viewers using ad blockers

Wikia is not accessible if you've made further modifications. Remove the custom ad blocker rule(s) and the page will load as expected.