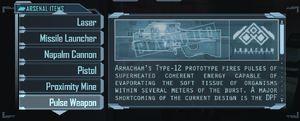 Pulse Weapon is a Datanet intel seen in F.E.A.R. 2: Project Origin. It appears in Michael Becket's PDA when he first obtains the Armacham Type-12 Pulse Weapon, and acts as an introduction to the Type-12's stats.
Transcript
Edit
ARMACHAM'S TYPE-12 FIRES PULSES OF SUPERHEATED COHERENT ENERGY CAPABLE OF EVAPORATING THE SOFT TISSUE OF ORGANISMS WITHIN SEVERAL METERS OF THE BURST. A MAJOR SHORTCOMING OF THE CURRENT DESIGN IS THE DPF REACTOR'S LIMITED YIELD, SEVERLY LIMITING THE NUMBER OF TIMES THE WEAPON CAN BE DISCHARGED BEFORE IT IS FULLY DEPLETED. PULSES GRADUALLY DECELERATE DUE TO ATMOSPHERIC RESISTANCE AND DESTABLISE VIOLENTLY AFTER A SHORT INTERVAL.
Ad blocker interference detected!
Wikia is a free-to-use site that makes money from advertising. We have a modified experience for viewers using ad blockers

Wikia is not accessible if you've made further modifications. Remove the custom ad blocker rule(s) and the page will load as expected.