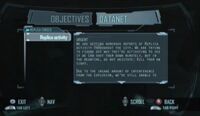 Replica Activity is an intel report found in F.E.A.R. 2: Project Origin. Michael Becket finds it at the beginning of Interval 04 - Ruin. The memo deals with the reactivation of Replica Forces by Alma Wade. It is listed under the Intel section "Replica Forces".
Transcript
Edit
WE ARE GETTING NUMEROUS REPORTS OF REPLICA ACTIVITY THROUGHOUT THE CITY. WE ARE TRYING TO FIGURE OUT WHY THEY'RE ACTIVATING SO WE CAN SHUT THEM DOWN REMOTELY, BUT IN THE MEANTIME, DO NOT HESITATE: KILL THEM ON SIGHT.
DUE TO THE INSANE AMOUNT OF INTERFERENCE FROM THE EXPLOSION, WE'RE STILL UNABLE TO GET THROUGH TO THE BOARD ABOUT REINFORCEMENTS AND EQUIPMENT DROPS, SO DON'T SIT AROUND EXPECTING TO BE RESCUED. JUST DO WHAT YOU WERE TRAINED TO DO AND WE'LL GET OUT OF THIS OKAY.
Ad blocker interference detected!
Wikia is a free-to-use site that makes money from advertising. We have a modified experience for viewers using ad blockers

Wikia is not accessible if you've made further modifications. Remove the custom ad blocker rule(s) and the page will load as expected.