Replica Sniper
Talk

0
472pages on
this wiki


Replica Snipers
Timeline information
Timeline

Both

Physical description
Height

NAM (Normal Adult Male)

Weight

NAM (Normal Adult Male)

Health

120

Armor

0

Description

Bluish-grey uniform and grey hockey-style face mask.

Military and Political information
Equipment

Type-7 Particle Weapon (F.E.A.R.)
N6A3 Fragmentation Grenades (F.E.A.R.)
RAAB KM50 Sniper Rifle (F.E.A.R. 2)
Seegert ACM46 Pistol (F.E.A.R. 2)

Affiliation

Replica Forces
Paxton Fettel
Alma Wade

  [Source]
Wearing a bluish-gray uniform and gray hockey-style face mask, Replica Snipers are a type of Replica Soldier in the F.E.A.R. series.
Both Timelines
Edit
Replica Snipers only appear in a single section towards the end of F.E.A.R.. The Point Man will engage in a firefight against eleven of them while crossing the rooftops of an abandoned tenement area. The snipers are equipped with Type-7 Particle Weapons, and will fire at the Point Man from the rooftops and windows of the nearby apartment buildings. Notably, Snipers wear a similar uniform to Replica Fatigues Soldiers, however, Snipers do not wear red night vision goggles. Instead, their faces are covered by a white hockey-style mask (all Replica soldiers wear this mask, but most cover it with a helmet or headgear).
Replica Snipers make a return in F.E.A.R. 2: Project Origin, and are more common than they were in F.E.A.R. They only come in a few levels and carry the Raab KM50 Sniper Rifle. They do not seem to wear armor, which means they have little health and will use the Seegert ACM46 Pistol if Michael Becket gets close to them, though this often is not an option. Their red night vision goggles might be a reference to the prequel's Replica Fatigues Soldiers. Keira Stokes is pinned down by fire from a team of these soldiers, and Becket is ordered to assist her in taking down all of them. Several are encountered later on, usually running into a prepared position before opening fire.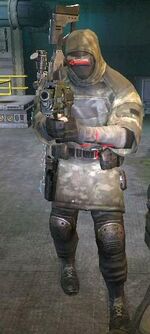 They are armed with the RAAB KM50 Sniper Rifle. When they use it, it has a visible red laser pointer which warns of when they are aware of Becket's position, and allows a convenient method of locating them by tracing the beam back to its source.
Slow-Mo and the RAAB KM50 Sniper Rifle is a very useful combination when facing the Replica Snipers at long range, however, the Patten PK470 Assault Rifle can be used because of its medium-high accuracy. At close range, anything can be used to neutralize them quickly.
They are again encountered in Reborn. Most of the time, they are mixed in with other Replicas, making the encounter the third time around slightly harder than before. It is not uncommon for Foxtrot 813 to fight other Replicas while being sniped at by them in Reborn.
Multiplayer
Edit
The Replica Sniper can be selected as a playable character model in the Replica faction in F.E.A.R 2's multiplayer. Because they have no armor, they have no protection, but they can carry large amounts of items.