Replica Urban Snipers are new units which appear in Perseus Mandate´s Bonus Missions.


Replica Urban Snipers
Timeline information
Timeline

Vivendi

Physical description
Height

Unknown

Weight

Unknown

Health

120

Armor

0

Description

Use same gear of Fatigues - Snipers soldiers and also Replica Urban´s Gas Mask.

Military and Political information
Equipment
Affiliation
Notable

They do not act like snipers

Other Names

Replica Urban Fatigues soldiers

  [Source]
F.E.A.R. Perseus Mandate
Edit
Appearing only in Perseus Mandate's Bonus Missions, they are relatively easy enemies to kill. They don't act like snipers, but use the same gear and health.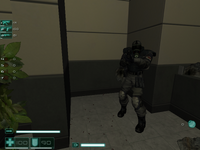 This place ain't right...
This article or section is a stub. You can help F.E.A.R. Wiki by expanding it.
Ad blocker interference detected!
Wikia is a free-to-use site that makes money from advertising. We have a modified experience for viewers using ad blockers

Wikia is not accessible if you've made further modifications. Remove the custom ad blocker rule(s) and the page will load as expected.