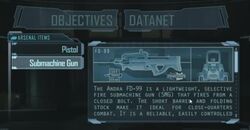 The Submachine Gun is an intel report found in F.E.A.R. 2: Project Origin. It is one of two reports found in Michael Becket's starting objectives screen, the other being the Pistol report. The report covers the specs of the Andra FD-99 Submachine Gun.
Transcript
Edit
THE ANDRA FD-99 IS A LIGHTWEIGHT, SELECTIVE FIRE SUBMACHINE GUN (SMG) THAT FIRES FROM A CLOSED BOLT. THE SHORT BARREL AND FOLDING STOCK MAKE IT IDEAL FOR CLOSE-QUARTERS COMBAT. IT IS A RELIABLE, EASILY CONTROLLED WEAPON THAT FIRES A LOW RECOIL PISTOL CALIBER CARTRIDGE. COMES EQUIPPED WITH A REFLEX SIGHT AND HIGH CAPACITY MAGAZINE.
USE THE ARSENAL SELECTION INTERFACE TO TOGGLE BETWEEN 3-ROUND BURST AND FULLY AUTOMATIC FIRE.