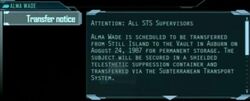 Alma Wade - Transfer Notice is an intel report found in F.E.A.R. 2: Project Origin. This report is found in Interval 06 - Deterioration - Approach, located on Still Island.
Transcript
Edit
ATTENTION: ALL STS SUPERVISORS
ALMA WADE IS SCHEDULED TO BE TRANSFERRED FROM STILL ISLAND TO THE VAULT IN AUBURN ON AUGUST 24, 1987 FOR PERMANENT STORAGE. THE SUBJECT WILL BE SECURED IN A SHIELDED TELESTHETIC SUPPRESSION CONTAINER AND TRANSFERRED VIA THE SUBTERRANEAN TRANSPORT SYSTEM.
Ad blocker interference detected!
Wikia is a free-to-use site that makes money from advertising. We have a modified experience for viewers using ad blockers

Wikia is not accessible if you've made further modifications. Remove the custom ad blocker rule(s) and the page will load as expected.